M113 Family of Vehicles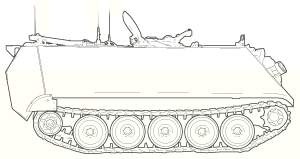 Mission
Provide a highly mobile, survivable, and reliable tracked-vehicle platform that is able to keep pace with Abrams- and Bradley-equipped units and that is adaptable to a wide range of current and future battlefield tasks through the integration of specialized mission modules at minimum operational and support cost.
Description and Specifications
After more than four decades, the M113 family of vehicles (FOV) is still in service in the U.S. Army (and in many foreign Armies). The original M113 Armored Personnel Carrier (APC) helped to revolutionize mobile military operations. These vehicles carried 11 soldiers plus a driver and track commander under armor protection across hostile battlefield environments. More importantly, these vehicles were air transportable, air-droppable, and swimmable, allowing planners to incorporate APCs in a much wider range of combat situations, including many ?rapid deployment? scenarios. The M113s were so successful that they were quickly identified as the foundation for a family of vehicles. Early derivatives included both command post (M577) and mortar carrier (M106) configurations.
Over the years, the M113 FOV has undergone numerous upgrades. In 1964, the M113A1 package replaced the original gasoline engine with a 212 horsepower diesel package, significantly improving survivability by eliminating the possibility of catastrophic loss from fuel tank explosions. Several new derivatives were produced, some based on the armored M113 chassis (e.g., the M125A1 mortar carrier and M741 ?Vulcan? air defense vehicle) and some based on the unarmored version of the chassis (e.g., the M548 cargo carrier, M667 ?Lance? missile carrier, and M730 ?Chaparral? missile carrier). In 1979, the A2 package of suspension and cooling enhancements was introduced.
Today?s M113 fleet includes a mix of these A2 variants together with other derivatives equipped with the most recent A3 RISE (Reliability Improvements for Selected Equipment) package. The standard RISE package includes an upgraded propulsion system (turbocharged engine and new transmission), greatly improved driver controls (new power breaks and conventional steering controls), external fuel tanks, and 200 AMP alternator with 4 batteries. Additional A3 improvements include incorporation of spall liners and provisions for mounting external armor.
The future M113A3 fleet will include a number of vehicles that will have high speed digital networks and data transfer systems. The M113A3 digitization program includes applying appliqué hardware, software, and installation kits and hosting them in the M113 FOV.
Current variants:
Mechanized Smoke Obscurant System
M548A1/A3 Cargo Carrier
M577A2/A3 Command Post Carrier
M901A1 Improved TOW Vehicle
M981 Fire Support Team Vehicle
M1059/A3 Smoke Generator Carrier
M1064/A3 Mortar Carrier
M1068/A3 Standard Integrated Command POost System Carrier
OPFOR Surrogate Vehicle (OSV)
Entered Army Service: 1960
Manufacturer: Anniston Army Depot (Anniston, AL); United Defense, L.P. (Anniston, AL)