Javelin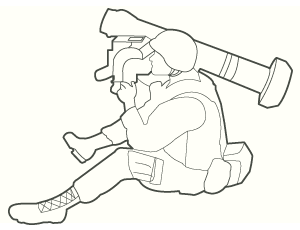 Mission
Provide a man-portable, highly lethal and survivable medium anti-tank weapon system to the infantry, scouts, and combat engineers.
Description and Specifications
Javelin is the first "fire-and-forget" shoulder-fired anti-tank missile now fielded to the U.S. Army and U.S. Marine Corps, replacing Dragon. Javelin's unique top-attack filght mode, superior self-guiding tracking system and advanced warhead design allows it to defeat all known tanks out to ranges of 2500m.
Javelin's two major components are a reusable command launch unit (CLU) and a missile sealed in a disposable launch tube assembly. The CLU's integrated day/night site provides target engagement capability in adverse weather and countermeasure environments. The CLU also may be used by itself for battlefield surveillance and reconnaissance. Javelin is fielded with no specific test measurement or diagnostic equipment - allowing our forces to deploy rapidly and unencumbered.
Javelin's fire-and-forget guidance mode enables gunners to fire and then immediately take cover, greatly increasing survivability. Special features include a selectable top-attack or direct-fire mode (for targets under cover or for use in urban terrain against bunkers and buildings), target lock-on before launch, and a very limited back-blast that enables gunners to safely fire from enclosures and covered fighting positions.
Javelin can also be installed on tracked, wheeled or amphibious vehicles.
Weight (missile and CLU):

   49.5 lbs

Length Overall:

   3 ft 6 in

Range:

   In excess of 2500m

Crew:

   2
Entered Army Service: 1996
Manufacturer: A joint venture between Raytheon and Lockheed Martin