History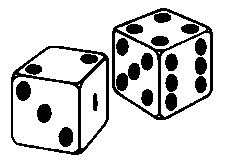 Cyno DICE is originally produced for my HP 48 SX scientific calculator to be used away from the comfort of my home. After attending attending school at KU--being away from home for 4 year--I lost track of where my real dice went.
The OS/2 REXX seems to be a much easier, but extremely powerful, script language to program, compared to DOS batch files. I was able to produce Cyno DICE for OS/2 without more than a few line of codes.
Unfortunately, the PC industry seems to be moving toward Windows 95, and maybe even Windows NT. Linux became an extreme popular operating system because of the speedy development of the Internet. Cyno DICE CGI was produced to reach an overwhelming number of users on the Internet, no matter what platform the web browsers are running on.
Version 1.5
Added 1D2 (coin) and 1D10 to the quick die roll selection. Improved quick die roll selection to better serve mobile devices. Added "Roll Again" button to make it easier for mobile users to roll the same dice set again. Released 2018-09-23.
Version 1.4
Added ability to specify modifiers. Now you can let Cyno's Dice do all the calculation for you with doing them in the head. The modifier and total is also tracked on Cirqo for online play. Released 2010-02-23.
Version 1.3
Integrated Cyno's Dice with Cirqo. Now you can roll a set of dice you game master and players can all see the result. Released 2007-10-21.
Version 1.2
Third release. OS/2 is now obsolete. Ported code to PHP. Renamed "Cyno DICE CGI" to "Cyno's Dice". Released 2007-10-17.
Version 1.1
Second release. Rewrote the form submitting code to correct problem with Netscape 2.01 (UNIX) and Lynx 2.3.7 BETA (UNIX). Released 1996-04-10.
Version 1.0
First version of Cyno DICE CGI released on OS/2 web server. Tested on IBM WebExplorer. Released 1996-04-08.
Related Links